Profile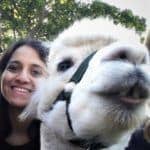 Danica Pinto
My CV
Education:

Did my initial schooling at Airport School, Mangalore, India and Sacred Hearts' School, Mangalore, India. Did my further education in Physics, Chemistry, Mathematics and Biology at St. Aloysius College, Mangalore, India followed by a BSc degree at the same Institute. During my grad days I developed more interest in Chemistry which led me to gain a Masters degree in Chemistry from National Institute of Technology Karnataka (NITK), India. I then flew across a few seas and landed in Heriot-Watt University, Edinburgh for a PhD in Chemistry.

Qualifications:

BSc in Physics, Chemistry and Mathematics | MSc in Chemistry | PhD in Chemistry

Work History:

During my Masters, I did a Summer Science Internship at IIT-Madras, India, performing direct molecular imaging. After my Masters I taught Post Graduate students at St. Agnes College, Mangalore, India for about one and a half years.
During my PhD, I worked part-time as a Scribe, Reader and as an Exam invigilator for disabled students. I also worked as a part-time lab demonstrator at the University.

Current Job:

PhD Student (currently job hunting)
About Me:

I love science and I aspire to be a good science communicator one day. Apart from that, I love going outdoors, visiting new places and photography. I'm a dog lover too. I enjoy watching comedy and science shows and listening to podcasts in my free time.

Read more

Originally, I'm from Mangalore, a lovely coastal city in the south-western part of India. I did most of my schooling and further education in my hometown and later moved to UK after marriage. My love for science led me to take up PhD in Chemistry at Heriot-Watt University, Edinburgh, Scotland. Now as I've just completed my PhD, I moved to England to live with my Husband. I'm currently applying for jobs and in the meantime taking up a few online courses. During my free time I enjoy going through my photo collection, doing some yoga, listening to music and podcasts like The Curious Cases of Rutherford and Fry (I just love this podcast and I find myself laughing at their conversations while my husband wonders what's wrong with me 😀 as I mostly listen with my headphones).

I'm looking forward to spring and summer in UK because it bursts with so many colours around. I love visiting new places and clicking pictures (I've attached a few for you to enjoy. Hope you like them).

A Poppy Field

Reflection of Scott Monument, Edinburgh

Read more

For centuries, man has known the interaction of light with matter. Molecules and atoms make up matter. When light is shined on atoms or molecules, light can be absorbed by them and by measuring the amount of light that is absorbed we can determine the amount of a substance present in the sample. This is the basic principle of absorption spectroscopy.

Image Source: Wikipedia

The molecule we are interested in detecting is Acetone, using spectroscopy based on a UV-LED. We are all familiar with acetone, the fruity smelling compound that is found in nail polish removers and cleaners. Acetone is a volatile organic compound that is found as a pollutant in the atmosphere with an average concentration of 1 part per billion. I know it sounds very little but acetone can undergo reactions in the presence of UV-light in the atmosphere resulting in the formation of harmful pollutants that affect human health, and atmospheric chemistry.

Acetone is also present in exhaled human breath. This serves as an indicator for metabolic processes particularly in people on a ketogenic diet or to detect diabetic ketoacidosis, DKA a life-threatening condition that can be experienced by Type 1 Diabetic patients. Most commonly blood ketone tests are carried out to check on the DKA condition. But these techniques are often an inconvenience to the patients as they are generally invasive (as it involves using a needle) in nature and time-consuming. Thus, leading to under-treating or over-treating the condition. The solution to these drawbacks is using real-time monitoring of breath acetone.

In our laboratory we have designed a portable acetone analyzer that uses spectroscopy based on a UV-LED for real-time monitoring of trace amounts of acetone. The main advantages of a UV-LED based detector over the commonly used laser-based detector are its compact size, lower energy consumption and cost reduction. We have successfully tested and evaluated the detection of acetone in the laboratory. Future work will focus on further miniaturizing the device for real-world applications.

My Typical Day:

During my PhD my typical day started with making my to-do list for the day at my office desk, checking emails to see if anything needed immediate attention and then heading to the lab where I carried out various tests and trials with various optics to build the experimental set-up.

Read more

I shared the laboratory with my colleague who worked with a similar set-up as mine but larger and not portable which used an expensive laser system. We co-ordinated our work so that we both could use the lab at the same time. We also helped each other out technically and also as a moral support to each other because not all experiments work as planned and it can get stressful at times. We discussed about our experiments and how we could make it work.

My work involved building an optical set-up using a more economic and low-energy consuming light source such as an Ultra violet (UV)-LED to detect acetone in a gas mixture sample. To do this, I had to first build an optical set-up with suitable lenses to capture and guide the light that is emitted by the LED. This involved carrying out various tests and trials with various combinations of lenses to guide the LED light into the experimental set-up. This was one of the interesting and yet a challenging part of my project as it was not so easy to work with an LED than with a laser. Let me explain why. You must have seen a laser pointer used in a presentation or to play with your cat. You can clearly see that the light coming out of it travels a longer distance without getting dispersed (the laser beam is said to be collimated whose light rays are parallel) and it is easier to focus it to a point. Whereas with an LED the light becomes divergent (not parallel) as it travels through a long distance and this is not good for our set-up as we need the light to travel a certain distance without getting dispersed. The figure below shows this difference.

(Comic source: http://omgnikki.com/cats-love-laser-pointers/[edited])

I eventually succeeded in building a set-up and used it to carry out acetone detection in the gas mixture sample using the UV-light LED.

An important point to keep in mind while working with UV-light is health and safety by using appropriate personal protective equipment (PPE) such as safety goggles to protect one's eyes from the harmful UV radiation. Here's me with the safety goggles and gloves.

Now after PhD, my typical day is much more different. Although not at university, I still make a small to-do list for the day and roughly plan my day ahead. I do some job hunting, listen to podcast, follow some or the other online course to build new skills, catch up with my cousins and friends back home, try my skills at cooking and baking and use my husband as a guinea pig, do some yoga or go for a walk and watch some telly.

What I'd do with the prize money:

I would like to use the prize money to sponsor school trips to a local science centre for students in a rural school in India to help them get an exposure to the wonders of science and be inspired.
I would also like to use some part of the money to do science activities for school kids in UK.
My Interview

How would you describe yourself in 3 words?

Friendly, Funny, Curious

What did you want to be after you left school?

Be a scientist

Were you ever in trouble at school?

Yes! 😉 for laughing in the class

Who is your favourite singer or band?

Mostly depends on my mood. But usually I listen to Queen (the one with Freddie Mercury) or Salsa music because it makes me want to dance.

What's your favourite food?

Beef roast (especially the ones my mom makes…oh yummm)

If you had 3 wishes for yourself what would they be? - be honest!

1. See every place on my wish list (which mostly covers the whole world hahaha). 2. See Earth from space. 3. Have a house full of dogs

Tell us a joke.

Why can't Elsa have a balloon? Because she will 'let it go' 'let it goooooo...'
---
---
---