Profile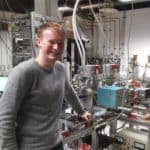 Elliott Reedy
Curriculum Vitae
Education

Alder Community High School, Hyde, Cheshire. Ashton Sixth Form College, Ashton-under-Lyne. University of Glasgow, Glasgow.

Qualifications

GCSE's: AA* Science, A Maths, A History, A* Business, B English Lan, B English Lit, B Spanish, B Geography. A Levels: A Maths, B Chemistry, B History. 2:1 Master of Science (MSci), Chemistry with Work Placement.

Work History

High school work placement: Accountancy Office Junior (2009). Part time work during university breaks: Waiter/Bartender (2011-2014). Post-University: Charles River Laboratories, Research Scientist (2016-2019). After graduating I worked in a research lab for three years as an analytical chemist.

Current Job

I am currently a Phd student at the University of Edinburgh.

Employer

School of Chemistry, University of Edinburgh, Joseph Black Building, David Brewster Rd, Edinburgh.
Favourite thing to do in my job: Using our ion trap to control and confine molecules with radio and electric fields.

About Me: I would probably describe myself as a bit of a nerd. I tick off multiple boxes; scientist, a love of Star Wars and fond of gaming when I can find the time!

Read more

Originally from a small village just outside of Manchester called Gee Cross – I moved to Scotland when I was 18 to study and I've found myself unable to leave!

I studied at the University of Glasgow and now live in Edinburgh with my girlfriend while I study for my PhD at the University of Edinburgh.

Despite my love of nerdy things like the Witcher and Star Wars – I am quite outdoorsy and love exploring the Scotland and have climbed a couple of munros (mountains) including Ben Nevis. I'm an avid football fan and follow my team Stockport County as much as I can – including a last minute trip from Edinburgh to Nuneaton (near Birmingham) to see the team lift the title last season.

My Work: Within our group we study various molecules that are thought to exist in the gas clouds and dust between stars, known as the interstellar medium. We compare our results in the lab to the light we see from distant stars.

Read more

We are primarily spectroscopists – we study the interaction between matter (atoms/molecules) and light in order to generate a spectrum. Like below…

We interpret the spectra of gas molecules which are either confirmed or thought to exist in the interstellar medium – clouds of gas and dust between stars. The results we generate in the lab can then be compared to the light we see from distant stars. We then hope we can match up signatures and confirm whether the molecule exists in interstellar space.

In our lab we try to create conditions similar to interstellar space using high powered lasers, vacuum chambers and an ion trap cooled down to -269 °C!!

Below is a picture of our apparatus – which is housed in large vacuum chambers.

The equipment is an array of "quadrupoles" which, with the help of electric and radio frequency fields allow us to guide molecules from our source into the supercooled ion trap. We then use high power lasers to probe the trapped molecules before analysing them with our detector.

My Typical Day: I will usually start off my day with a cup of tea before my research group leader arrives! We will then proceed to the lab where we will slowly turn on the various parts of the machine such as the gas lines, power supplies and the lasers. Once we are happy everything is working as it should, we will start to expose the molecules to laser radiation to see their spectra.

Read more

Once we have turned on all of our equipment – we'll set about making sure it is all working as it should.

We check the high pressure gauges to make sure our vacuum chambers work and we make sure the laser is aligned properly towards our experiment.

All of our equipment takes a while to warm up/cool down – so during this time we will decide what wavelength of laser we plan to use. Once we decide, we will set up the correct laser and begin to scan our trapped molecules to collect the spectrum.

In between all of this I will probably be reading various papers from chemistry and astrophysical backgrounds and consider what other interesting molecules we might be able to observe.

What I'd do with the prize money: I would like to put on a talk/small event to highlight the field of astrochemistry.

Read more

The Royal Observatory in Edinburgh puts public talks on various astronomy topics.

I would like to include a talk on astrochemistry and highlight some of the work that is allowing this relatively young research field to grow.

My Interview

How would you describe yourself in 3 words?

Smiley, Inquisitive, Kind

What or who inspired you to follow your career?

My Grandad was an engineer and always encouraged me to understand how things worked.

What was your favourite subject at school?

Strangely... History

What did you want to be after you left school?

I had no idea! Maybe work in a museum.

Were you ever in trouble at school?

Very rarely!

If you weren't doing this job, what would you choose instead?

Banking/Finance/Accountancy

Who is your favourite singer or band?

White Lies

What's your favourite food?

Pizza!

What is the most fun thing you've done?

Last year I went on an epic 3000 mile road trip across Canada with 3 school friends in an RV!

If you had 3 wishes for yourself what would they be? - be honest!

1. Faster than light travel - discover Earth-like planets. 2. Reverse global warming? 3. If 2 doesn't work, I've always fancied a Tesla!

Tell us a joke.

Why are there no good chemistry jokes? All the good ones Argon. (...sorry...)
---
---
---